Losing weight is largely about changing behaviors, including what you eat and how active you are. When trying to change a behavior you have had for a very long time it will be challenging to change that behavior. Having a support system in place will help you when things become difficult, and you're tempted to quit. A support system will help encourage you to stay on your diet, and will praise you when you complete a work out sessions and will help you find healthier food choices and will be there to support you when you struggle. Much like quitting smoking or using alcohol studies show that people are more successful in attempts to lose weight when they have a support group there to help them.

Because weight loss isn't just about diet or exercise or thoughts or feelings or aesthetics - for most people it is about all of these things. Working with a team - consulting with a dietitian for nutritional information, a trainer for exercise assistance and most importantly a psychologist or other licensed mental health professional to get at the root causes of eating and body image issues - results in a holistic approach to a holistic problem.
Sharecare has taken the team approach and you have the benefits of numerous 'experts' from a variety of fields: psychology, MD's, personal trainers, physical therapists, etc. It's so much nicer to have people who are experts in a variety of disciplines than someone who is an expert in one. Although many experts has a vast amount of knowledge in several disciplines if someone is focusing solely in one area they likely have more information in that area than someone who has knowledge in several areas. There are only so many hours in a day. That does not mean for example, that someone who has expertise in exercise psychology, personal training and coaching does not have a good wealth of information. That person may have just the right amount of information for you and hopefully if they don't they will refer you to someone who does.
Why take a team approach to weight because like so many times in our lives we try things on our own and fail. Is failure a bad thing? Absolutely not. Well all learn from our experiences and learn how to change to get those results we are looking for. The team approach works well in that you have so much support from different angles to help you and guide you along the way. Your team can come in many forms like friends, family, co-workers and even fitness professionals. When you have so much support behind you there is nothing you cannot do. This is what Sharecare is all about team support.
Having the support of people close to you is an important part of change. It doesn't matter if you're changing a job, a routine, or the way you eat – support gives you a better chance of making the change succeed!
For more information go to www.weight-loss-plans-4-you.com
Because together is so much more enjoyable than alone.
Because we are social creatures by nature that yearn for validation and support from others, it only makes sense to adopt a team approach to weight loss. This team approach means seeking out other individuals with similar goals as you and then surrounding yourself with them. They will help you persist when compliance gets difficult and praise you in your successes, which is all incredibly important in your journey towards accomplishing a healthy weight. The people we bring into our social network influence our decision making in more ways than we might assume, so it makes sense to do everything we can to set ourselves up for goal attainment rather than failure.

Especially in the instance of weight loss, operating as a team is crucial. Think for a second of all the social activities you engage in and how many of them are focused around the consumption of calories in some fashion or another: birthdays, lunhces, coffee runs, happy hours- the list goes on. As human beings, we have established eating and drinking as social activities and they have become hard habits to break. If we are around others who don't share our weight loss journey with us, then making better choices will become increasingly difficult and you will find unnecessary obstacles in your way.

On the fhe flip side, think of how many social interactions focus around physical activity. The list is much shorter as you can guess. When we have others on our team, they can help make walks, hikes, and workouts a more suitable and enjoyable time together than other activities such as eating and drinking.

The road to healthy weight is simple, but not always easy. When we have a team around us that is treading our same path, we find that our successes are greater and our setbacks are responded to with resilience. We can make things easier for ourselves by increasing our chances for goal attainment through creating an MVP team of individuals that share our same goals. They will show us that we can easily accomplish more.
Life is a team game—you've got sports teams and surgical teams, restaurant staffs and office staffs, hip-hop clubs and calculator clubs. And, of course, you have the ultimate team—your family. The most successful teams all work the same way: Everybody plays a different role and contributes in his or her own way. You may have a Shaq, Kobe, or LeBron on your team, but the team can't win the title unless everybody, not just the stars, works for the team goal.

Somehow, though, when it comes to weight control, you believe that you're solely responsible for dropping your excess pounds and changing your habits. To make it worse, when you're gaining weight, even the fans are chipping in on your side—the world around us wants us to gain weight in the form of big portions, drive-thrus, and family dinners that could feed a small municipality. Then when you're trying to lose weight, it's as if everyone's against you—they bring junk food into the home, suggest everyone goes out for ice cream, and feast on pork fat while you're trying to gnaw on cauliflower.

You have to stop thinking that this game is you versus a stadium full of ribs-loving opponents. Sure, it's true that you need to be the quarterback of your waist-control team, but you won't achieve success without a team that can block for you, high-five you when you're doing well, and give you an encouraging smack on the butt when you're not. Your starting lineup should include your doctor, maybe a nutritionist, maybe a personal trainer, and certainly scads and scads of fans like your family and friends (online or in person) who can push you, support you, and yank the bowl of candy corn away from you.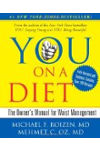 Continue Learning about Fitness Psychology