Unfortunately we live in a society where fitness is judged based on six-pack abs and ripped bodies. That is not what fitness is. You will know when you are fit simply by how you feel. Your mind, body and spirit should feel free of guilt, and stress should be at a minimum in your life. Physiacal acitvity should also play a big role in your life and your cardiovascular system should be great. In other words, you should be able to walk up a flight of stairs without feeling winded.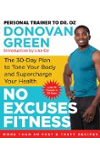 More About this Book
No Excuses Fitness: The 30-Day Plan to Tone Your Body and Supercharge Your Health
"Donovan Green proves that motivation and inspiration improves his clients' lives inside and outside of the gym. Donovan's own life story is the greatest example of how being motivated and driven makes what once seemed impossible a reality."--Joe Scarborough, NBC News Senior Political Analyst and host, Morning JoeDr. Oz's personal trainer, Donovan Green, delivers a 30-day fitness program focusing on exercise, diet, and attitude, forged from his experience training thousands of clients ranging from celebrities to regular folks.Between his positive, can-do spirit and practical, brass tacks strategies for getting in shape, it's no wonder that Donovan Green has reached 3.7 million daily viewers via his unique No Excuses platform on DrOz.com. With No Excuses Fitness, Green delivers a comprehensive month-long plan designed to help readers lose 10 pounds in 30 days. Filled with healthy recipes, workouts that can be done anywhere and with minimal equipment, and daily tips for staying focused (especially through plateaus), and featuring a foreword by Dr. Oz's wife Lisa, No Excuses Fitness will inspire and guide anyone interested in losing weight and gaining optimal health.
Knowing how fit you are is important information. In this video, Dr. Oz challenges audience members in a series of fun health tests.
The dictionary defines fitness as:
fitness |ˈfitnis|
noun
the condition of being physically fit and healthy : disease and lack of fitness are closely related | [as adj. ] a fitness test.
the quality of being suitable to fulfill a particular role or task : he had a year in which to establish his fitness for the office.
Biology an organism's ability to survive and reproduce in a particular environment : if sharp teeth increase fitness, then genes causing teeth to be sharp will increase in frequency.
I think the idea of being fit is very different for many people but the second bullet point is the one I love. The quality of being suitable to fulfill a particular role or task. I think that is a great definition of fitness. It is not all about weight or body fat or appearance. Mostly it is the ability to do something that makes someone fit. As Dr. Oz shows in this video the ability to do things in our normal lives (functional activities) is the true definition of fitness.
Little things like being able to run longer distances, playing with your grandkids, moving your lawn with a push mower, reducing health risks and improving blood tests are all things that can be rolled into fitness. Whatever the case or situation may be, if you are moving in a direction that you are more capable then you are more fit.
I feel fitness can be defined by being able to do what you like to do activity wise everyday and feeling good doing it. Can you easily move your body? Do you feel strong? Most importantly do you feel healthy? These are important questions to ask!
There are several ways to assess overall fitness. This includes assessments of body fat, cardiovascular function and respiratory function. Some of the most common ways to assess fitness include:
Resting heart rate
Blood pressure
Cholesterol levels
Blood glucose levels
VO2 Max
Body Mass Index, or BMI
Circumference measurements
Hydrostatic weighing
Bioelectrical impedance
All of these tests measure vital components in fitness. All of these will identify your overall health.
Continue Learning about Fitness