The first appointment with the healthcare provider is a long and busy one. The first prenatal visit includes a complete physical examination and a thorough medical and family history as well as a variety of blood and urine tests and standard cervical cultures. All of this is done to assess the health of the woman and to identify any healthcare issues that may impact the pregnancy. The first prenatal visit also includes a conversation with the healthcare provider about healthy habits during pregnancy and what to expect during the next 9 months. During this conversation the woman should have the opportunity to ask questions about her self care, genetic testing, emotions and feelings about the pregnancy or other concerns she may have about being pregnant.
We encourage the first prenatal visit between seven to nine weeks. But, it depends on your own history. If you have a history of miscarriages, you may be seen earlier. During the first prenatal visit, there will be an exam and lab work. Sometimes people will have an ultrasound done during this visit, but it isn't guaranteed. During this visit, we usually give more information on where you'll deliver and how the practice works.
During your first prenatal doctor visit, the doctor will perform a physical exam. You will also have an ultrasound taken to determine your due date and discuss any needed testing during pregnancy.
During your first prenatal visit, you'll also learn about the normal physiology of pregnancy, including normal signs and symptoms like fatigue and nausea, warning signs such as bleeding and pain, diet and exercise during your pregnancy, safe medications to take during pregnancy and normal postpartum care (labs, doctor's visits and vaccinations).
Your first prenatal visit will be longer and more involved than the others. During your initial visit, you and your provider will calculate your due date and, ideally, begin to discuss your ideas, thoughts, hopes and plans for your pregnancy. Your provider may confirm your pregnancy through a blood or urine test, and will also obtain a thorough health history of you, your family and the baby's father. She or he will likely ask you about aspects of your life that may affect your pregnancy and your baby's health. The questions will cover, among other things, your past and present use of drugs (including prescription medicines), cigarettes and alcohol; your diet (including any vitamins, other supplements or herbs you may take); your level of physical activity; your occupation and hobbies; whether you have pets; and how much emotional support you have available.
In addition, your provider will give you a thorough physical examination that includes checking your heart and lungs, breasts, abdomen, blood pressure and weight. She or he may also perform a pelvic exam to measure the size of your uterus (and growing fetus) and to obtain a Pap smear to screen for cervical cancer and infections. A urine sample will be taken in order to check for urinary tract infections and test for sugar in the urine (to detect potential problems with diabetes) or protein that might be a sign of kidney problems.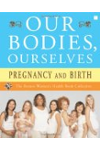 More About this Book
Our Bodies, Ourselves: Pregnancy and Birth
ALL THE INFORMATION YOU NEED TO MAKE WISE DECISIONS ABOUT YOUR PREGNANCY AND THE BIRTH OF YOUR CHILD -- FROM THE EDITORS OF THE CLASSIC "BIBLE OF WOMEN'S HEALTH" Pregnancy and birth are as ordinary...
This first visit will likely take much longer than other appointments that will occur over the next few months. It should include:
A complete health and family history
A complete physical examination, including blood pressure, height and weight measurements
Blood tests to check for your blood group, blood type, Rh factor, anemia, immunity to rubella (German measles), hepatitis B virus and some sexually transmitted diseases.
Here's what you can expect at your first prenatal visit:
A test to confirm pregnancy (may be urine or blood)
Determination of due date based on the first day of your last menstrual period. If you are uncertain, an early ultrasound may be done to confirm the dates of your pregnancy
Discussion of dietary, exercise and sexual guidelines, appropriate weight gain, common symptoms of pregnancy and those that require immediate attention—both emotional and physical
Your provider may do an ultrasound to refine your due date and look for a fetal heartbeat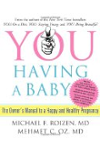 More About this Book
YOU: Having a Baby: The Owner's Manual to a Happy and Healthy Pregnancy
Can I get a cavity filled while pregnant? Will avoiding spicy foods make my kid a picky eater? Can I really increase my baby's IQ while she's in utero? Whether you're pregnant for the first time, are trying to start your family, or already have enough children to start your own basketball team, you're bound to have questions about what it means to be pregnant -- and how you can increase your odds of having a healthy and happy pregnancy. But no matter how much you've read, watched, studied, or talked about this amazing biological journey, you have never read anything like this. In this groundbreaking book, Dr. Michael Roizen and Dr. Mehmet Oz act as mythbusters for the hundreds of questions surrounding pregnancy in the same scientific, informative, and entertaining ways that have made them America's Doctors. In these pages, you'll learn everything you need to know about the miracles of fetal development, your health throughout the pregnancy, and providing the best possible environment for your growing child. Pregnancy is a complicated balancing act, but it doesn't have to be frightening. The doctors will help you de-stress as they describe accurately and rationally what happens during a thrilling nine months of life. While every pregnant body is different, odds are you'll experience some of the cravings, crying, and discomfort that almost all women go through. Your best tactic? Learn why these things are happening -- and what you should do about them. YOU: Having a Baby will teach you everything you need to know about what to eat (should I be eating for two?), how much to exercise, and what guilty pleasures will actually make pregnancy easier on you (and the loved ones who get to be around you for the whole thing). Each phase of pregnancy has different challenges, but the right information will prepare you for what's ahead. The interactive week-by-week calendar inside provides an even more detailed guideline for how and what you should feel through every step of the process. Exciting, cutting-edge scientific research in the fi eld of epigenetics has changed the way the medical profession looks at pregnancy, and now it can change your perspective, too. Epigenetics explores what makes us develop in certain ways -- why some people thrive at math while others are prone to chronic diseases. It turns out that there are easy things you can do that will not just help your baby's development in utero but will actually improve his or her chances of living a healthy, fulfi lling adult life. Filled with recipes for nutritious, satisfying snacks and meals even Pop can cook (yes, he can!), safe exercises for staying fit, and tons of YOU tips that will help you stay comfortable, YOU: Having a Baby is the ultimate guidebook for what to do from the moment of conception to the weeks after your child has arrived home. From morning sickness and food cravings to choosing a doctor and changing a diaper, YOU: Having a Baby will give you the real scoop about what's in store for you during this amazing time in your life.
Continue Learning about First Prenatal Check-Up