Place your ear above the victim's mouth and nose. Watch for signs of breathing. Gasping is not breathing. If the victim isn't breathing, start Rescue Breathing. (Use a cardiopulmonary resuscitation (CPR) barrier mask if one is available.) If you have any reservations about giving rescue breathing or consider the victim at high risk for disease transmission, perform Chest Compression-Only CPR. To perform rescue breathing:
Pinch the victim's nose to close nostrils, keeping the airway open by the head-tilt, chin-lift.
Take a deep breath and seal your lips around the outside of the victim's mouth, preferably with a CPR barrier mask, creating an airtight seal.
Give the victim 2 full breaths (1 second each), taking your lips off the victim's mouth to inhale between each breath.
Check for chest rising and falling with each breath you give. The rising of the chest during your exhalations indicates the effectiveness of your breaths.
Perform 5 sets of the 30-to-2 cycle within 2 minutes.
Continue cardiopulmonary resuscitation (CPR) until an automated external defibrillator (AED) is applied, the person starts to move, help arrives, or until you can no longer continue.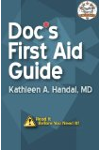 More About this Book
Doc's First Aid Guide: Read It Before You Need It
In a medical emergency, time is of the essence. "Doc's First Aid Guide" is an illustrated, first-aid pocket handbook designed to be used as a quick reference and includes the latest CPR guidelines....
Continue Learning about First Aid Techniques