Wash exposed skin and clothing thoroughly with soap and water. Also bathe an exposed pet. If poisoning develops, treat with calamine lotion, Epsom salts, or bicarbonate of soda. Seek medical attention for severe rashes, especially over large areas, involving the eyes, nose, or mouth, or accompanied by fever.

Symptoms usually develop within 24 to 48 hours. They include severe itching, inflammation, and blistering, and oozing sores in serious cases.

Poison ivy can grow as a ground cover, shrub, or climbing vine. The leaves have three pointed leaflets. The edges can be smooth or toothed and are 2 to 4 inches (5-10 cm) long. Avoid touching or brushing against the plant, touching anything that has come in contact with it, and inhaling smoke from burning plants.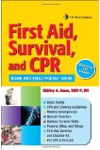 More About this Book
First Aid, Survival, and CPR: Home and Field Pocket Guide
Be prepared for first aid care and survival in any setting-at home, on the road, outdoors, while boating, hiking, or camping. From performing CPR on an adult, child, or infant to dealing with bleeding and shock, cuts and broken bones, heart attacks, emergency childbirth, poisoning, drowning, scuba diving mishaps, wilderness survival, and natural disasters such as tornadoes, wildfires, floods, and earthquakes. This portable, waterproof guide helps you quickly find the information you need to develop a plan of action for assessing and treating all kinds of first aid and survival emergencies. A special feature includes pet safety describing how to assemble a pet first aid kit, performing CPR on a dog and cat, and keeping pets safe during natural disasters. Keep a copy in your home, car, boat, camper, or backpack and be "ready" when emergencies occur.
Poison ivy can be a bothersome condition. Dr. Oz discusses the most effective home remedies for poison ivy in this video.




Continue Learning about First Aid, Safety & Preparedness