The best protection from poisonous plants, besides avoidance, is to have your child wear long sleeves and pants if he's hiking, playing, or exploring an area that you think may be infested with the stuff. Also, make sure to hose off any pets who may be running through infested areas, so they don't carry it back to the family.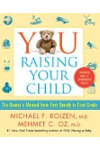 To protect your child from poisonous plants, you need to know which plants are poisonous. Here's information on recognizing these plants:
Poison ivy grows as a vine or shrub in the grass or on trees. Look for three pointed, notched leaves per stem.
Poison oak grows only as a shrub, usually in the western United States. Looks like poison ivy, but tips of leaves are rounded.
Poison sumac is a tall shrub or small tree found in wooded areas of eastern states. Six to 12 leaves grow in pairs with a single leaf topping stems.
If your child's skin comes in contact with one of these plants, you have about 10 minutes to wash away the rash-causing oil. If you don't catch it in time, a rash may develop within 12 hours. Use hydrocortisone cream and an oral antihistamine to calm the itch.
If the rash involves the eyes or if it covers a large portion of her body, contact your pediatrician. Oral steroids may be recommended for severe cases.
Continue Learning about First Aid, Safety & Preparedness