What you should do when your child gets a burn depends on how severe the burn is.

If your child has a first-degree burn, which will be red and moderately painful, soak the burned area in cool water for at least five minutes and then apply a protective skin product, such as aloe vera or antibiotic ointment.

If your child has a second-degree burn, call your child's doctor. The burn will be very painful and will likely develop blisters. Soak the burn in cool water for 15 minutes, apply an antibiotic cream and cover the area with a nonstick bandage. Change the bandage daily until the burn heals; this can take several weeks. Check with the doctor for other instructions on treating a second-degree burn.

If your child is suffering from a third-degree burn, her skin will be charred or white, and you should go to the emergency department immediately. While you're on the way to the hospital, cover the burn with a cool, wet, sterile bandage.

Never put ice or ice water on any type of burn.

Any burn that covers more than 2 percent of a child's body (that's about twice the size of his hand) needs medical attention. And if a burn of any size comes from an electrical cord or is in a sensitive area, such as near the eyes or genitals, see a doc. If the burn is small, then run it under cool water for about five minutes. You can use a mild soap to clean the area, but don't use alcohol, because that will hurt. And don't pop any blistered areas, so as not to increase the risk of infection. After you rinse, gently pat the area dry, then cover the burn with a topical antibiotic and a gauze pad. A doc may also give you a topical medicine called Silvadene cream or, even better, pure unadulterated honey such as Medihoney; the antimicrobial power of silver and intrinsic bacteria-killing properties of polyphenols in honey help heal the area. The only downside is that both silver sulfadine and honey are goopy. Silvadene turns yellow, which makes many parents think that there's an infection; we'd go with honey.


The family dog would also prefer honey; either way, keep all mouths off the wound. You can also give your child Benadryl to help minimize any inflammatory reaction.



One note: If a kid's clothes are smoldering from a burn, get him in the shower and rinse him off before removing the clothes. If you remove the clothes while they're smoldering, you risk spreading the burns all over the body.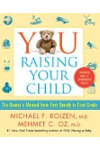 Continue Learning about First Aid, Safety & Preparedness