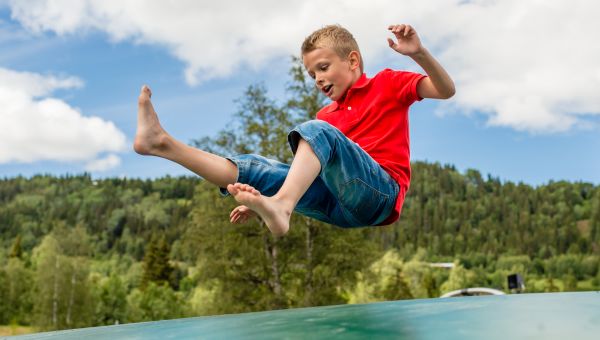 When Hollywood stuntwoman Leigh Hennessy walks up a wall or sails over a 20-foot fence she's launches from an unseen trampoline -- right into her role as stunt double for actresses like Lucy Lui, Demi Moore and Helen Mirren. But when you or your kids decide to get launched on your backyard trampoline, there's a good chance one of you will land in the emergency room with a broken bone -- or worse.
A new study says from 2002 to 2011 over one million trampoline injuries (almost all happen at home) cost $1 BILLION in emergency hospital care. Kids around nine-years-old account for most of the fractures to fingers, hands, forearms, and elbows. Injuries to the head, back, and torso tend to happen to older teens; they jump higher and more forcefully. That's why the American Academy of Pediatrics and the American Academy of Orthopedic Surgeons advise against home trampolines.
But we don't want you or your kids to be less active -- just more safe! (A new report says only about 25 percent of kids 6-15 get the recommended 60 minutes of moderate physical activity daily and only 20 percent of adults get the recommended 150 minutes weekly.) If you must trampoline – and it's been an Olympic sport for almost 16 years -- do it only with supervision as part of a sports training program, and find out their safety record beforehand. And for kids ages six and under? Fuggedaboutit – not allowed.
As for at-home activities, put up that badminton or volleyball net, play backyard football, soccer or Frisbee. Have fun, stay fit -- and stay away from backyard trampolines!
Medically reviewed in March 2020.