During a medical emergency, always take protective measures to avoid coming in contact with another person's body fluids (blood, urine, sputum, secretions). Protective measures should also be taken during cleanup and disposal of materials used to care for the victim.

To reduce the risk of infection, follow these guidelines:
Always cover all your open skin areas.
Wear the appropriate personal protective equipment (PPE) such as: gloves, mask, CPR barrier mask (when giving rescue breathing), and goggles.
If possible, place a barrier between you and another person's body fluids.
Minimize the splashing of body fluids.
Wash hands and any exposed area with soap and water immediately after providing care, even if you were wearing gloves!
Handle sharp objects with caution.
Wear a mask if there's a risk of exposure to airborne disease.
Dispose of contaminated PPE in an appropriate container.
Contact your Primary Care Physician (PCP) immediately if you come in direct contact with another's body fluids, especially if you have concerns.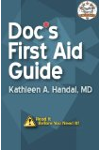 More About this Book
Doc's First Aid Guide: Read It Before You Need It
In a medical emergency, time is of the essence. "Doc's First Aid Guide" is an illustrated, first-aid pocket handbook designed to be used as a quick reference and includes the latest CPR guidelines....
Continue Learning about First Aid Risks