The following are signs and symptoms of heat exhaustion:
Sweating, moist clammy skin
Muscle cramps, weakness and fatigue
Nausea, vomiting
Slightly elevated body temperature
Headache
Dizziness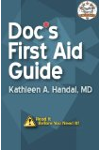 More About this Book
Doc's First Aid Guide: Read It Before You Need It
In a medical emergency, time is of the essence. "Doc's First Aid Guide" is an illustrated, first-aid pocket handbook designed to be used as a quick reference and includes the latest CPR guidelines....
Signs of heat exhaustion include cool, moist, pale, ashen or flushed skin, as well as:
headache
nausea
dizziness
weakness
exhaustion.
If you're sweating heavily, you could be developing heat exhaustion, but there are other less obvious signs. Learn what they are—and when to get immediate medical help—by watching the video.
People with heat exhaustion will generally be sweating profusely. They commonly have cool, clammy, pale skin and a rapid but weak heart rate. Body temperature is usually only slightly elevated, no higher than 104 degrees. Other signs and symptoms might include confusion or dizziness, decreased urination, nausea and vomiting, headache, fatigue/weakness and malaise.
This answer provided for NATA by the Marist College Athletic Training Education Program.
Symptoms of heat exhaustion include nausea vomiting, lethargy, increased heart rate, increase temperature. It is important to continually hydrate yourself with water or Gatorade-type beverage. Avoid caffeine or alcoholic beverages. It is important to listen to your body, don't continue to push yourself in extreme heat.
Continue Learning about First Aid For Natural Exposure