A number of things make children more vulnerable to choking than adults: their small upper airways, their inexperience with chewing, and their tendency to "mouth" objects. Because every child is at risk of choking from food and other objects, every child should be taught the universal choking signal.
To show your child the universal choking sign, place both hands across the front of your throat, crossed at the wrists. This gesture should be taken as a serious sign that your child cannot breathe.
From Good Kids, Bad Habits: The RealAge Guide to Raising Healthy Children by Jennifer Trachtenberg.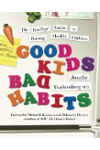 Most important is probably to teach your child how to recognize true choking. Someone who is choking cannot breathe or use their voice. If they are still making any breathing noises of any kind, this is not choking, and they should just be encouraged to keep trying to cough the offending object out. If a child recognizes they are choking, they should point at their throat, and use head nodding or shaking to answer yes or no to questions of whether they are choking. If no one is around, they can try to throw themselves onto the back of a chair so that the chair back hits them just under the ribs.
Continue Learning about First Aid For Choking