Babies naturally put things in their mouths, which is cute if they are chewing on a large stuffed toy or their own fingers. However, this tendency can be dangerous if they swallow or inhale something small such as marbles, peanuts, or small toys belonging to older siblings.
Taking the following steps can keep your baby from choking:
Think small -- Be vigilant about keeping small objects out of your baby's reach. This includes small pieces of food that may cause choking.
Sit for meals -- When your baby begins to eat solid foods, keep your baby in a sitting position while she is eating.
Consider age -- Choose toys for your baby that are age-appropriate. If you are given toys for older ages, store them safely away out of your baby's reach.
Don't toy around -- Encourage older children, whether siblings or visitors, to keep small toys away from the baby.
From Good Kids, Bad Habits: The RealAge Guide to Raising Healthy Children by Jennifer Trachtenberg.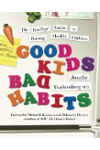 Supervise mealtimes for infants.
Do not let infants eat while playing or running.
Teach infants to chew and swallow food before talking or laughing.
Do not give chewing gum to infants.
Do not give infants smooth, hard food such as peanuts and raw vegetables.
Do not give infants round, firm foods such as hot dogs and carrot sticks unless chopped into pieces ½ inch or smaller.
Do not allow infants to play with un-inflated balloons. (The U.S. Consumer Product Safety Commission recommends keeping these away from children younger than 8 years of age.)
Keep small objects such as safety pins, small parts from toys and coins away from infants.
Make sure that toys are too large to be swallowed.
Make sure that toys have no small parts that could be pulled off.
Continue Learning about First Aid For Choking