Wear gloves, if possible, and brush off stingers with a towel. Gently wash the area with salt water. Soak the wound in very warm (not hot) water for 30 to 90 minutes to inactivate the toxin. Use an over-the-counter antihistamine for localized swelling, tenderness, or itching. Hydrocortisone cream reduces swelling. Take acetaminophen, aspirin (if older than 18), or ibuprofen for pain. If bleeding, bandage the wound. Seek immediate medical care for uncontrolled bleeding, difficulty breathing, or other generalized symptoms.
Don't rub the injury or rinse it with fresh water. This will activate any stinging cells that haven't already ruptured.
To prevent stings, stay alert on the beach or while swimming. Jellyfish are nearly transparent and can be hard to see.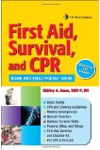 More About this Book
First Aid, Survival, and CPR: Home and Field Pocket Guide
Be prepared for first aid care and survival in any setting-at home, on the road, outdoors, while boating, hiking, or camping. From performing CPR on an adult, child, or infant to dealing with bleeding and shock, cuts and broken bones, heart attacks, emergency childbirth, poisoning, drowning, scuba diving mishaps, wilderness survival, and natural disasters such as tornadoes, wildfires, floods, and earthquakes. This portable, waterproof guide helps you quickly find the information you need to develop a plan of action for assessing and treating all kinds of first aid and survival emergencies. A special feature includes pet safety describing how to assemble a pet first aid kit, performing CPR on a dog and cat, and keeping pets safe during natural disasters. Keep a copy in your home, car, boat, camper, or backpack and be "ready" when emergencies occur.
Continue Learning about First Aid For Animal Encounters