Perform rescue breathing only when the infant is not breathing or is gasping for breath.
1. Begin by opening the airway. Place the infant face up on a hard, flat surface.
2. Lift the chin with one hand while pushing down on the forehead with the other. This straightens the airway so the air flow is unobstructed.[media id="PRD__4e6e38fd3d0024_12217490" title="Jones - Opening Infant Airway"]
3. An infant's neck is extremely flexible, so use caution. Tilting the head back too far can block the airway.
4. Once the airway is open, inhale and cover the infant's nose and mouth with your mouth, creating an airtight seal.


5. Give one breath. This should take about 1 second.
6. Use a small puff of air so you don't overinflate the lungs.
7. Repeat rescue breathing at 12 to 20 breaths a minute (one breath every 3 to 5 seconds).
8. Watch for the chest to rise as you give each breath.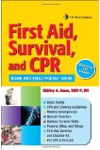 More About this Book
First Aid, Survival, and CPR: Home and Field Pocket Guide
Be prepared for first aid care and survival in any setting-at home, on the road, outdoors, while boating, hiking, or camping. From performing CPR on an adult, child, or infant to dealing with bleeding and shock, cuts and broken bones, heart attacks, emergency childbirth, poisoning, drowning, scuba diving mishaps, wilderness survival, and natural disasters such as tornadoes, wildfires, floods, and earthquakes. This portable, waterproof guide helps you quickly find the information you need to develop a plan of action for assessing and treating all kinds of first aid and survival emergencies. A special feature includes pet safety describing how to assemble a pet first aid kit, performing CPR on a dog and cat, and keeping pets safe during natural disasters. Keep a copy in your home, car, boat, camper, or backpack and be "ready" when emergencies occur.
Continue Learning about First Aid For Medical Emergencies & Conditions