You can be prepared for medical emergencies by keeping a list of important phone numbers and medications on hand. It's also important to keep a list of your healthcare providers, their phone numbers, and any allergies you have.
Here are 10 steps you can take now to get ready for a medical emergency and if necessary a trip
to the emergency room (ER):
Create an emergency information sheet.
Stock your first aid kit and your medicine cabinet.
Learn first aid and read your first aid book.
Make a medical history and medications list.
Know your insurance coverage.
Get your legal documents in order.
Get to know your ER.
Prepare your children for the ER.
Know when to go to the ER.
Get ready for emergency medical services.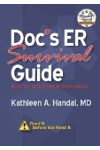 More About this Book
Doc's ER Survival Guide (DocHandal's Guides)
Few people get through life without at least one trip to the emergency room (ER), either as a patient or support person for a family member or friend. Doc's ER Survival Guide is designed to help...
In your home or programmed on your cell phone, have all the emergency numbers for family members and your physicians, as well as the local poison control number and even your local emergency rooms. Post these numbers near your home phone and make sure your children and any babysitters know where they are.

If you have to leave town and are leaving your children in the care of others, sign and leave a Consent to Treat Form, giving your children's temporary caretakers the right to authorize any treatment or surgery for them in the event of an emergency. You can download this form on the American College of Emergency Physicians' website.
Continue Learning about First Aid For Medical Emergencies & Conditions