First if the person does not respond to your voice you need to decide are they breathing? Because if they are 'lifeless'-first aid for a broken bone is not important.
If a person is unresponsive and not breathing you need to start CPR right away. Gasping is not breathing! By unresponsive I mean appears lifeless, doesn't move or respond when shoulder is tapped. Yell for someone to call EMS and get an AED. An AED applied fast may restart the heart. Don't worry, AEDs are user friendly and have displayed instructions on how to operate one.
Understand that when a victim's heart has stopped pumping blood (cardiac arrest), permanent brain damage can begin in four to six minutes, so you must act fast.
Cardiac arrest can strike at any age and may be caused by many conditions, including heart attack, suffocation, allergic reaction, drowning, choking, or electric shock.
Before giving first aid to the unconscious victim, look at your surroundings and make sure the scene is safe. Next, check to see if the victim is responsive.
1. For an adult or child, gently tap or move the shoulders and ask, "Are you Okay?" Look for any movement, including breathing.[media id="PRD__4e78cd5b5791f7_38048077" title="Jones - Adult Responsiveness"]
[media id="PRD__4e78cd99298011_38339221" title="Jones - Child Responsiveness"]
2. For an infant, gently tap the feet, never shake an infant. Look for any movement, including breathing.
3. If the victim is not breathing begin the steps for CPR. Ask someone to call 911 and request an automated external defibrillator (AED).
4. If the victim is breathing but unconscious he/she cannot tell you where the problem is, so you'll need to look for clues. Begin by looking for obvious signs such as bleeding, a bone protruding from a wound, or a gunshot wound.
5. Then check the victim from head to toe and look for anything out of the ordinary. Also, check for a medic alert bracelet or medications. Ask bystanders if they know the victim or how the accident or incident happened.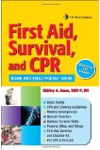 More About this Book
First Aid, Survival, and CPR: Home and Field Pocket Guide
Be prepared for first aid care and survival in any setting-at home, on the road, outdoors, while boating, hiking, or camping. From performing CPR on an adult, child, or infant to dealing with bleeding and shock, cuts and broken bones, heart attacks, emergency childbirth, poisoning, drowning, scuba diving mishaps, wilderness survival, and natural disasters such as tornadoes, wildfires, floods, and earthquakes. This portable, waterproof guide helps you quickly find the information you need to develop a plan of action for assessing and treating all kinds of first aid and survival emergencies. A special feature includes pet safety describing how to assemble a pet first aid kit, performing CPR on a dog and cat, and keeping pets safe during natural disasters. Keep a copy in your home, car, boat, camper, or backpack and be "ready" when emergencies occur.
Continue Learning about First Aid For Medical Emergencies & Conditions