Domestic fires pose one of the greatest risks to children. The easiest way to prevent tragedy is to use smoke alarms. Install at least one smoke alarm on each floor of your home, and check monthly that the alarms are working properly. Replace the batteries annually. One good way to remember to do this is to change the batteries when you change the clocks each spring or fall.
It's important that you work out an escape plan with all of your children. Teach them to feel a door for heat before opening to be sure the exit is safe, and make sure your children know two ways out of the house in case one is blocked by fire. Let your children know that no matter how scary a fire might be, it's never okay to hide during an emergency. Also, firefighters in all their gear may look and sound scary to young children, so be sure your children know firefighters are heroes who are there to protect them. Taking a field trip to the local fire station can help kids become more familiar with firefighters and fire safety.
Your family should choose a meeting place such as a neighbor's front yard in case of fire. Rehearse the plan so that in the heat of an emergency your children will remember what to do.
Studies show that children may sleep through a smoke alarm. Test the alarm during the night when family members are asleep to find out if this is a problem. In an emergency, you will know who you need to wake up despite a blaring smoke alarm.
From Good Kids, Bad Habits: The RealAge Guide to Raising Healthy Children by Jennifer Trachtenberg.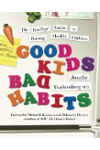 Continue Learning about Fire Safety