Continuous support during labor and delivery has many benefits for women and infants and virtually no known harm. All women should have support throughout labor and birth. In the hospital setting, the labor nurse is readily available to provide continuous support during the labor and birth experience. In a birthing clinic, labor support may come from nurses, midwives or doulas. Doulas are lay people who are trained in how best to support women in labor. Doulas act as the support a woman needs emotionally, assisting in carrying out the plans that the parents have selected to provide them with the "right" birth experience for them. A doula does not replace the role of the father or partner, but enhances it. Many times a couple does not know all of their options, and the doula, along with the nurse, midwife or physician can help to explain and reassure the family. Research has shown that continuous support provided by midwives and doulas, during labor may reduce the duration of labor and the number of cesarean deliveries. This has also been shown to be true about doulas.
In fact, medical studies have shown that having continuous labor support present can provide the following benefits for the laboring mother:
50% reduction in cesarean rate
60% reduction in epidural requests
40% reduction in the use of Pitocin
25% shorter labor
30% reduction in use of analgesia
40% reduction in forceps use
Continuous labor support for the woman in labor often includes providing a constant presence for emotional and physical support for her and helping her to remember why she's doing this: A healthy mom and healthy baby!
Continuous support during childbirth can have a number of benefits. Having a close friend or loved one in the labor room is a great way to ease stress during childbirth. Some women utilize professional support persons or doulas who charge a fee but can be very helpful in certain situations. Not all doulas are created equal so establishing a trusting relationship with whomever will be there before labor ensues can minimize tension and stress.
Continuous support during labor improves health outcomes and increases women's satisfaction with our birth experiences. A recent review of high-quality scientific studies found that women who received continuous, one-on-one support in labor had fewer complications, better health outcomes, and greater satisfaction with their birth experiences than women who did not. Women who had such support had fewer cesarean sections, as well as fewer vacuum extractions and forceps deliveries. They used pain medications or anesthesia less often and felt more positive about their birth experience.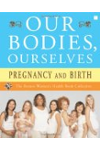 More About this Book
Our Bodies, Ourselves: Pregnancy and Birth
ALL THE INFORMATION YOU NEED TO MAKE WISE DECISIONS ABOUT YOUR PREGNANCY AND THE BIRTH OF YOUR CHILD -- FROM THE EDITORS OF THE CLASSIC "BIBLE OF WOMEN'S HEALTH" Pregnancy and birth are as ordinary...
Continue Learning about Pregnancy, Fertility and Childbirth