A multiple gestational pregnancy just simply means caring more than one fetus/baby. This could be as simple as a set of twins or triplets or with the advent on infertility treatment 4, 5, 6, 7, or even 8 babies (octuplets). When the mom has more than one passenger on board she is considered a higher risk or potential complications and is seen more frequently by her health care provider.
A multiple gestation pregnancy occurs when more than one fetus is present in a single pregnancy. A multiple gestation pregnancy results from the splitting of a single zygote or the presence of two or more zygotes. When a single zygote splits the offspring have identical genetic make-up, whereas when two or more zygotes are present the offspring each have a unique genetic make-up. The use of new reproductive technologies, especially in the treatment of infertility has increased the incidence of multiple gestation pregnancies.
Years ago, most twins came as a surprise. Now, thanks to advances in prenatal care, most women learn about a multiple pregnancy early. You might suspect you are pregnant with multiples if you have more severe body changes, including:
• Rapid weight gain in the first trimester
• Intense nausea and vomiting
• Extreme breast tenderness
Your doctor can confirm whether you are carrying more than one baby through ultrasound. If you are pregnant with twins or other multiples, you will need to see your doctor more often than women who are carrying only one baby because your risk of complications is greater. Women carrying more than one baby are at higher risk of:
• Preterm birth
• Low birth weight
• Preeclampsia
• Gestational diabetes
• Cesarean birth
More frequent prenatal visits help your doctor to monitor your and your babies' health. Your doctor will also tell you how much weight to gain, if you need to take extra vitamins, and how much activity is safe. With close monitoring, your babies will have the best chance of being born near term and at a healthy weight.
After delivery and once your babies come home, you may feel overwhelmed and exhausted. Ask for help from your partner, family, and friends. Volunteer help and support groups for parents of multiples also can ease the transition.
This answer is based on source information from the National Women's Health Information Center.
Pregnancy loss and complications are more likely in multiple gestation pregnancies, in which there are two or more embryos or fetuses. There has been a dramatic increase in the number of multiple gestation pregnancies in the United States over the past twenty years. More women are conceiving after age thirty, which naturally increases the chance of multiples, and more women are using infertility treatments that increase the chance of having a multiple gestation pregnancy.
Rarely, very early in pregnancy, one twin will die and the other will be fine. This is called "vanishing twin syndrome" and may be associated with some vaginal spotting during the first months. If one fetus dies later in pregnancy, the surviving fetus or fetuses should be closely monitored.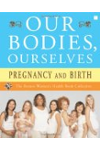 More About this Book
Our Bodies, Ourselves: Pregnancy and Birth
ALL THE INFORMATION YOU NEED TO MAKE WISE DECISIONS ABOUT YOUR PREGNANCY AND THE BIRTH OF YOUR CHILD -- FROM THE EDITORS OF THE CLASSIC "BIBLE OF WOMEN'S HEALTH" Pregnancy and birth are as ordinary...
Continue Learning about Pregnancy, Fertility and Childbirth