Here's the plan for perfect skin care during pregnancy:
Wash your face with a gentle cleanser (one that won't burn your eyes).
Use a moisturizer based on your skin type (oily skin doesn't need a moisturizer). In fact, at ages younger than 50 and in any location save a desert, most skin doesn't need moisturizers - use of moisturizers inhibits your own production of your protective skin oils. Use a lotion or cream (as opposed to a gel or liquid) only if your skin is dry, or you live in a very dry climate. Look for a moisturizer that contains antioxidants in the form of vitamins A, C, and E, which will ward off toxins so that more collagen can form.
Exfoliate your face using a washcloth rather than a chemical product. The mechanical removal of dead skin ensures that chemicals often used for exfoliation won't get absorbed and passed on to your baby.
Use a sunscreen with an SPF of at least 30 that contains zinc dioxide. Every day, no excuses. It's a mechanical blocker so is not absorbed in the skin like many chemical sunscreens. Such blockers also work immediately, so you can put them on just as you're leaving the house.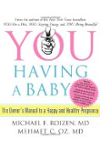 Continue Learning about Pregnancy, Fertility and Childbirth