Support during pregnancy can come froma variety of sources. Family, both the partner and extended family such as parents, sibling and aunts are frequent sources of support. There are also community based resources such as maternal-child services through the health department, church groups and non-profit organizations. In todays world of social networking there are a growing number of online blogs and support group that can bring people together to provide support and education.
Each of us has different sources of support for celebrating or coping with the emotions that our pregnancy brings up. Good prenatal care, safety in our work lives and homes, and financial security are all vital to sustaining emotional well-being during pregnancy. In addition, our emotional well-being is supported when we have loving, caring people in our lives; nourishing food to eat; time to rest and to exercise; guaranteed paid maternity leave; and encouragement from confident, skillful health care providers. Yet many women do not have access to these essential supports. Some of these factors are beyond our personal control and will be improved only with broader social and political advocacy.
Other factors may respond to changes we can make ourselves. We can develop coping strategies - from laughing with friends to going swimming, writing in a journal, or joining a support group - to boost our resiliency. As your pregnancy progresses, try to engage in activities that will promote your health: taking time for socializing, for relaxation, and for building relationships that are meaningful to you.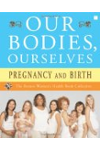 More About this Book
Our Bodies, Ourselves: Pregnancy and Birth
ALL THE INFORMATION YOU NEED TO MAKE WISE DECISIONS ABOUT YOUR PREGNANCY AND THE BIRTH OF YOUR CHILD -- FROM THE EDITORS OF THE CLASSIC "BIBLE OF WOMEN'S HEALTH" Pregnancy and birth are as ordinary...
Continue Learning about Pregnancy, Fertility and Childbirth