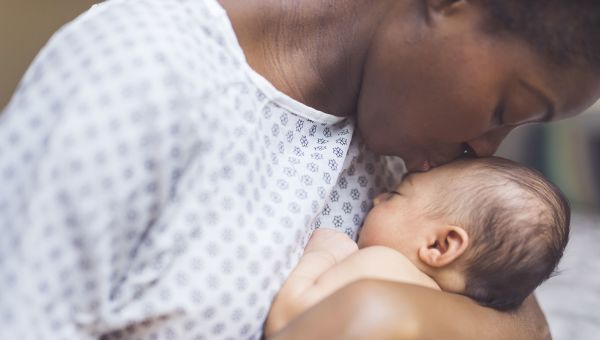 More than half of these deaths are preventable, CDC says.
Hundreds of women die each year from pregnancy-related issues and most of these deaths are preventable, according to the Centers for Disease Control and Prevention (CDC).
The CDC estimates that every year in the U.S. about 700 women die from complications that develop during pregnancy or delivery­—and certain groups are far more likely to be affected.
According to a 2019 CDC report, between 2007 and 2016, the overall rate of pregnancy-related deaths among non-Hispanic black women was 40.8 per 100,000 births; it was 29.7 for non-Hispanic American Indian/Alaska Native (AI/AN) women. For white women, the rate was just 12.7 per 100,000 births. Women living in rural areas, those with low-incomes and older mothers are also at higher risk.
The overall maternal mortality rate may be rising, too. A 2016 study published in Obstetrics and Gynecology found the rate jumped 25 percent from 2000 to 2014. The American College of Obstetricians and Gynecologists (ACOG) has even gone so far to say that the U.S. has one of the highest maternal morbidity and mortality rates in the modern, industrialized world.
The CDC points out, however, that nearly 60 percent of pregnancy-related deaths could be prevented with better health care, communication and support—regardless of women's race or ethnicity.
"Most of these deaths are preventable, but we are missing opportunities to identify risk factors prior to pregnancy and there are often delays in recognizing symptoms during pregnancy and postpartum, particularly for black women," said ACOG president, Lisa Hollier, MD, in the official May 2019 press release accompanying their new guidelines on managing heart disease in pregnancy.
Conditions that can lead to death
Overall, heart disease is the leading cause of death in pregnancy and the postpartum period, accounting for 25.9 percent of all pregnancy-related deaths in the United States, reports the CDC. Heart disease and stroke combined are to blame for about 34 percent of all pregnancy-related U.S. deaths. Infections and severe bleeding are other common causes of maternal deaths.
Globally, preeclampsia and other hypertensive disorders of pregnancy are a leading cause of maternal and infant illness and death. Here's a more in-depth look at some of these life-threatening conditions:
Preeclampsia is a condition that causes high blood pressure and in more serious cases, organ damage, usually during pregnancy or up to six weeks after delivery.
An amniotic fluid embolism occurs during delivery, and means the amniotic fluid enters the mother's bloodstream, which can cause an allergic-like reaction, leading to cardiac arrest or excessive bleeding.
A postpartum hemorrhage (PPH) can cause heavy bleeding and a significant drop in blood pressure one or more days after giving birth.
Blood clots usually strike after delivery and can lead to more serious conditions like stroke or deep vein thrombosis—clots in the veins of the legs or pelvis—or even dangerous pulmonary embolisms, which block blood flow to the lung.
Cardiomyopathy is a type of heart failure that surfaces during the last month of pregnancy or within five months of giving birth.
Sepsis can actually occur during pregnancy or after, and is the body's response to an infection like pneumonia, influenza, urinary tract infections or other complications related to pregnancy, like C-sections.
Why are rates increasing?
Many factors play into the rise in maternal mortality, including chronic conditions like heart disease and diabetes, which are increasing in the U.S. and may lead to pregnancy complications. Unplanned pregnancies are another big factor, since they make up nearly half of U.S. pregnancies. These women may not seek treatment for their chronic conditions, and may be less likely to adhere to prenatal guidelines. Lack of insurance and access to proper healthcare can also contribute to poor prenatal health.
Evidence also suggests that racial bias and racism within the health care system contribute to the rising maternal mortality rate—an issue ACOG has acknowledged as well. "The disparity is due, in part, to racial bias and overt racism that exists in the provision of health care and in health system processes," the group said in a statement. These racial factors are especially prevalent when it comes to heart disease: "The greatest health disparities in the management of cardiovascular disease for black women usually exist prior to pregnancy when risk factors are not identified."
Aside from well-known risk factors for heart disease that affect everyone, such as poor diet, obesity and inactivity, women may experience additional risk factors, including diabetes or high blood pressure, during pregnancy. High blood pressure, specifically, is increasing among pregnant women, according to a report published in the American Heart Association's journal Hypertension in September 2019. Of the nearly 151 million childbirth-related hospitalizations analyzed from 1970 to 2010, researchers found that almost 1 million women had chronic high blood pressure during pregnancy, and that black women were more than twice as likely as white women to develop it.
Advanced maternal age and an increase in C-sections also factor in, since they both raise the risk for life-threatening complications. The opioid crisis is a consideration, too, since more women have become dependent on the drugs, says Darria Long Gillespie, MD, an Emergency Department physician at Northside Hospital in Atlanta, Georgia.
Many women fail to recognize certain warning signs that their lives may be in danger after giving birth. Some new moms may be coached on how to identify signs of an infant emergency—but not how to take care of themselves and differentiate between normal postpartum recovery and worrisome symptoms, like extreme pain.
What's being done to combat the issue?
Some states are addressing the issue and working hard to lower their rates. For example, the California Maternal Quality Care Collaborative is an initiative providing 200 participating hospitals with real-time data they collect. In addition, staff members are provided toolkits about how to handle common problems. The results are promising—the maternal death rate in California declined by 55 percent between 2006, when the organization was founded, and 2013.
Another maternal safety initiative is the Alliance for Innovation on Maternal Health (AIM), created by The Council on Patient Safety in Women's Health Care. AIM is a way to "equip, empower and embolden" every health care organization possible to reduce maternal morbidity and mortality, according to ACOG. Healthcare systems across the country can voluntarily join the program and receive resources and patient safety bundles.
Amid rising rates of maternal deaths due to heart disease, ACOG released new comprehensive guidance in May 2019, advising all women to be screened for heart disease during pregnancy and after birth. ACOG also recommends that pregnant women with high blood pressure be evaluated by their primary care physician or cardiologist 7 to 10 days after they deliver. Pregnant women with heart disease or other heart problems should see their doctors no later than 14 days after giving birth.
How to protect yourself
Your OBGYN should discuss potential problems (and their signs) with you during pregnancy, but you can be proactive by learning about these conditions as well. Here are some ways to safeguard your health:
Get early and regular prenatal and postpartum care. Regular check-ups and care during your pregnancy are very important for both you and your baby. Routine screenings during pregnancy may include blood work, which can test for things like anemia, infections and gestational diabetes. In addition to screenings for heart problems after delivery, your doctor may evaluate you for signs of postpartum depression and check in to see how you're doing physically. ACOG recommends you see your doctor no later than 12 weeks after delivery to see how you're healing, especially if you had a C-section. Depending on your individual needs, your doctor will help you determine how often you need follow-up postpartum appointments.

If cost or access is an issue, every U.S. state has a pregnancy care plan to help you afford medical care during pregnancy. Call 1-800-311-BABY to learn how to reach out to your local Health Department.

Address chronic conditions before becoming pregnant. Getting a handle on things like obesity, high blood pressure, diabetes and most importantly, heart disease, can help keep you and your baby healthy, during and after pregnancy.

Reach out to your OBGYN with any questions—big or small. "It's OK to have questions and it's OK to call," says Long Gillespie. Make a list for your OBGYN and schedule a second appointment if you don't have time during the first. "While the insurance coverage and physician shortage issues are out of the OBGYN's hands, they can, however, guide their patients in the area of maintaining their health and keeping chronic conditions in check," says Long Gillespie.

Walk. As soon as your doctor gives you the OK after delivery, start walking, says Long Gillespie. Walking can help get your body back to its normal restorative function and can help prevent blood clots.

Know your numbers. Learn your normal blood pressure levels both before and during pregnancy so you and your doctor can refer back to them in an emergency.

Speak up. If something feels off or the pain is severe or persistent, during or after pregnancy, see your doctor.

Adhere to prenatal guidelines. Listen to your doctor and follow recommendations about exercise, eating habits, stress levels and lifestyle changes.
Your baby is going to need you, and she'll need you to be well, stresses Long Gillespie. Maternal care is extremely important; educate yourself by reading the information the hospital gives you and asking your OBGYN questions. Doing so will empower you to take charge of your health as best you can.
Medically reviewed in May 2019. Updated in September 2019.