We asked for directions when seeking for love, approval, and God. We were children - new here. What did we know? We asked our parents. Lovingly, they taught us their beliefs, experiences, and what they were taught would bring happiness.
We asked our teachers who, beginning from a place of idealism, tried to teach us in an often broken and frustrating system.
We asked our clergy. These are often beings who, also beginning from a place of incredible love and spiritual generosity, gave all of their selves to the search for God's love and bliss. Sadly, some of the rules and beliefs they were forced to teach may have come from a few people who were caught up in fear or were seeking personal power. Therefore, they have often taught eternal shame and hate (tragically saying that they were doing so in God's name) instead of unconditional love and acceptance. The power of beliefs and things that are taught to us in childhood can be easily seen here. You know how simple it is to recognize the obviously human "silliness" that has been added (in God's name) when we look at everyone else's religion. Now notice how hard it is to see the "improbabilities" in our own!
We asked our politicians who set up the rules for our system. These are people who often began from a place of great compassion and desire to help. Yet, they entered a system in which effectiveness can only be achieved at the expense of forced bribery.
We looked to our news media to find out how things "really were." Journalists enter the field working hard to bring people the truth. Yet, what we see on television and in the newspapers is often an inaccurate and highly skewed (to the sensational and painful) reflection of life.
Each of these groups gave us a view of the world based on what they were taught was right. A few succeeded in stirring our souls and giving us a glimpse of joy, inspiration, and happiness. Unfortunately, very often they seemed no closer to being happy and having the truth than we were.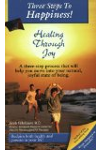 More About this Book
Three Steps to Happiness! Healing Through Joy
Happiness is our natural state of being. It is who we are. This happiness is obvious when you look at little children before they take on society's beliefs. Their natural state is to feel all of...
Continue Learning about Feelings & Emotions in Relationships