Prostaglandin E1 is a hormone-like substance created when the body ingests an essential fatty acid called gamma-linolenic acid (GLA). GLA is found in foods and supplements like evening primrose oil. Considered a "messenger" in the brain, prostaglandin E1 is vital to regulating nerve impulses. Some experts believe increasing prostaglandin E1 in the brain can improve memory, mood, impulse control and concentration. This substance also stimulates the blood vessels to contract, causing an anti-inflammatory effect.
Phospholipids are the predominant form of fat in our cell membranes. The major phospholipid of the human body is phosphatidylcholine. Commercially available phosphatidylcholine supplements are derived from soy lecithin, an excellent source of phosphatidylcholine. These preparations are used in the treatment of Alzheimer's disease, bipolar disorder, an elevated level of cholesterol, and liver disorders. The beneficial effects are probably due primarily to the essential fatty acid components of phosphatidylcholine and the soy lecithin preparations because the body primarily breaks down phospholipids into free fatty acids that benefit the body. These free fatty acids are used directly as fuel by the cells of the body. Free fatty acids can be long, short, saturated, or unsaturated. The free fatty acids in soy lecithin are the beneficial medium- and short-chain, unsaturated fatty acids.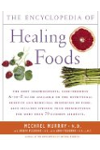 More About this Book
Encyclopedia of Healing Foods
From the bestselling authors of The Encyclopedia of Natural Medicine, the most comprehensive and practical guide available to the nutritional benefits and medicinal properties of virtually everything...
Continue Learning about Fats
At 9 calories per gram, fats can add up quickly in your diet, yet experts recommend that you get only 7% of your calorie intake from fat. Fats also affect your cholesterol, and there are both good and bad fats. The best kind of fa...
ts are called unsaturated fats, and can be found in oils like olive and canola oils, nuts and seeds. These fats can help your body get rid of cholesterol. Saturated fats often have had hydrogen added to them to make them more solid. Other saturated fats are found in cream, butter and meats. They can raise your blood cholesterol. Its wise to learn which is which and check nutrition labels to make proper choices.
More