Fat is like real estate; it's all about location, location, location. We all have three kinds of fat in our bodies: fat in our blood stream (called triglycerides), subcutaneous fat (which lies just underneath the skin's surface) and omentum fat. The omentum is a fatty layer of tissue located inside the belly that hangs underneath the muscles in your stomach (it's why some men with beer guts still have firm bellies -- their fat is underneath the muscle). Omentum fat is the most harmful to your health.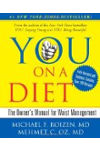 Continue Learning about Fats
At 9 calories per gram, fats can add up quickly in your diet, yet experts recommend that you get only 7% of your calorie intake from fat. Fats also affect your cholesterol, and there are both good and bad fats. The best kind of fa...
ts are called unsaturated fats, and can be found in oils like olive and canola oils, nuts and seeds. These fats can help your body get rid of cholesterol. Saturated fats often have had hydrogen added to them to make them more solid. Other saturated fats are found in cream, butter and meats. They can raise your blood cholesterol. Its wise to learn which is which and check nutrition labels to make proper choices.
More