To truly understand how the overactive immune response known as inflammation can lead to a host of problems including oxidative stress, aging, and obesity, you need to understand the relationship between some chemicals that have alphabet-soup names -- most prominently nf-Kappa-B (a bad guy) and PPAR (a good guy).

Your liver triggers the release of these chemicals, depending on the kinds of foods and toxins it's metabolizing (or attempting to metabolize) at the moment.

In our digestive town, let's think of nf-Kappa-B (short for nuclear factor Kappa-B) as the raucous frat house that stimulates inflammation (an overly revved up response of the body's immune-fighting system), while the other is a nice, stately non-profit group that quiets inflammation and performs good deeds throughout your body.

If you eat foods that stimulate your liver to release the frat-house substance (nf-Kappa-B), the release triggers a chain of events that causes the inflammation in your body and prevents the transportation of glucose (sugar) to your cells, which triggers hunger. (Glucose on the inside of cells stops hunger by affecting the specific satiety center of the brain).

But you can also eat foods that stop the inflammation riot, or eat foods that stimulate the release of the do-good substances that have an anti-inflammatory effect. They're called PPARs (it stands for peroxisome proliferator-activated receptors, but I like to think of them as Perfectly Powerful Abdominal Regulators).

The reason why PPARs are so effective: Once they're activated, they decrease glucose and insulin levels, as well as cholesterol and inflammation. Though we all have different genetic dispositions for levels of PPARs, they aren't self-starters; they need to be activated by foods to work.

So the bottom line: How do we stop that mutation, that oxidation, and that inflammation? By eating foods with antioxidant and anti-inflammatory properties. These foods are particularly useful for those who are aging and unable either to exercise or to manage stress efficiently.

This is one of the primary battles you want to win -- to quiet your inflammation and decrease your fat storage through the regulation of these two chemicals and their allies. To quash those hooligans living in the nf-Kappa-B house, you need to increase the effects of the noble PPARs throughout your body.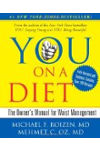 Continue Learning about Fats