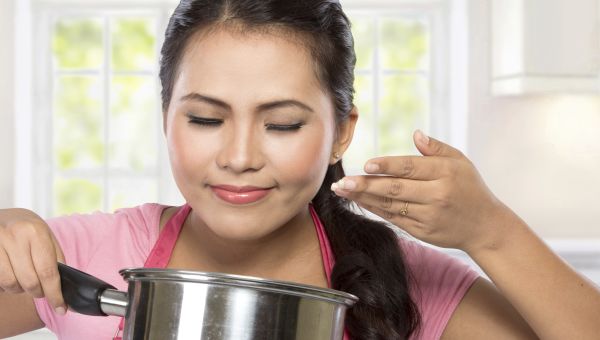 Superman and Spiderman use their super-powers for good to aid seemingly helpless humans in their time of need. But believe it or not you have what you need to save yourself from one of the biggest nutritional dangers to your good health. Not an asteroid, an invisible force field, or an evil twin—but artery-clogging, brain-fogging, love-cooling unhealthy fats. And your weapon for self-defense? Your nose.
Related: How Does My Sense of Smell Work?
A new set of studies demonstrate your nose can sniff out the fat content in foods, whether you're overweight or normal weight, male or female, young or old. Your all-too-neglected olfactory sense can be one more tool to help you avoid unhealthy foods and weight gain!
Here's how can you cultivate your power to smell the fat content in foods:
Try an at home fat-sniffing test. Smell the difference between a pat of butter, a tablespoon of canola oil and a french fry. Notice the heaviness of the butter and the french fry smell? See how much lighter the canola oil is?
The dynamic duo of Healthy Aromas and Good Tastes are also packed with smells strong and subtle. Check them out, too. Cilantro, cabbage, onions, broccoli, green peppers and mushrooms all have distinct and pleasing aromas.
Now take what you've learned out into the world. Pay attention to different food smells. Learn to identify those that are healthy and those that are not.
You'll know you've mastered your super-healthy power of smell when the scent of frying bacon conjures up images of wrinkles or impotence—which is what's caused by eating bacon fat!
Medically reviewed in July 2019.