Don't let technology replace you! Watch for key times when you want your family to focus in on each other. For instance:
Don't put a TV in your kids' bedrooms where they can retreat from family life. Kids with a TV in their bedrooms spend an average of almost 1.5 hours more per day away from their family.
Turn on your phone's answering machine during sacred family times like at dinner time.
Leave the computer in a central family spot where you can connect with your kids even for a short backrub.
Let the off-switch work to create quality family interactions.
Turn off your TV when you're not watching -- especially during family meals. Sixty-four percent of 8-18 year olds surveyed say the TV is usually on during family meals. Research finds that leaving the TV on when unwatched is a communication barrier -- especially to younger kids or children who are more easily distracted.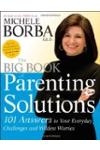 Continue Learning about Family Challenges & Problems