While many couples help each other get through their child's crisis, the frustration, guilt, exhaustion, and anger that hovers over parents during trying times can cause marriage troubles. The stress of caring for a chronically ill child can quickly bring any marital issues front and center. One study found that parents of children with genetically based diseases, such as hemophilia, have a higher than 70 percent divorce rate.
Having a sick child reminds a lot of parents of the first few months after childbirth, when exhaustion is the norm and there's virtually no time for sleep, recovery, or each other. The situation with a chronically ill child is the same thing but often with no end in sight. Normal outlets to recharge your batteries are hard to come by. You need to set up a support system and accept offers of help so that you and your spouse can find time for each other.
From The Smart Parent's Guide: Getting Your Kids Through Checkups, Illnesses, and Accidents by Jennifer Trachtenberg.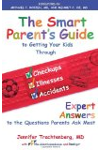 Continue Learning about Family Challenges & Problems