The following are first aid treatment guidelines for an impaled object in the eye:
Cover object protruding from eyeball without touching either the eye or the object, using a paper cup or similar object that won't disturb the imbedded object.
Cover both eyes with dry sterile dressing to prevent natural movement by injured eye.
Get medical attention immediately.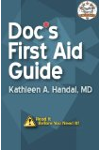 More About this Book
Doc's First Aid Guide: Read It Before You Need It
In a medical emergency, time is of the essence. "Doc's First Aid Guide" is an illustrated, first-aid pocket handbook designed to be used as a quick reference and includes the latest CPR guidelines....
Continue Learning about Eye and Vision