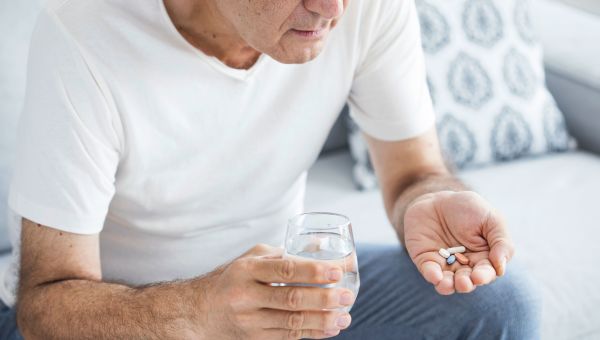 ED affects 30 million men—and one solution just got a lot more accessible.
There's some good news for the millions of men affected by Erectile Dysfunction (ED): two generic versions of Viagra are now available, and in many cases, they'll be much less expensive to purchase than Viagra itself. Viagra, the first drug to treat ED, came on the market in 1998.
"The fact that generics are coming is a game changer," says David Samadi, MD, chairman, Urology and chief, Robotic Surgery, at Lenox Hill Hospital in New York City. "It is the right thing. The generic medications will be reasonably priced, and men will finally able to get the best care, and care that is affordable."
Erectile dysfunction is fairly common: up to 30 million men may be affected, according to the Urology Care Foundation. One study notes that some 52 percent of men have ED, with about 40 percent of men affected at age 40 and nearly 70 percent of men who are 70-years-old.
ED not only affects men of all ages, but it frequently has more than one cause including:
Disorders that damage nerves and arteries, like high blood pressure, chronic kidney disease, clogged arteries and uncontrolled diabetes
Unhealthy lifestyle choices such as smoking, consuming too much alcohol, not exercising and being overweight
Treatments for prostate cancer
Mental health issues like depression, stress and low self-esteem
Certain medications
For men who have ED, switching medications they may be taking for other conditions and making lifestyle modifications like quitting smoking or using illegal drugs may help. The men may be prescribed oral medications that work by relaxing the muscle cells in the penis, thus permitting greater blood flow, reports the Urology Care Foundation. Some 80 out of 100 men who take an oral drug like Viagra show improvement with their ED, according to the Urology Care Foundation.
If Viagra does not work, some "tweaking" may be needed, says Nachum Katlowitz, MD, Director of Male Infertility Surgery, Urology at Staten Island University Hospital in Staten Island, New York. "It may be a matter of when the person takes it," he explains. "The man may need to take it when getting into bed since it goes to work in 15 minutes. The average for Viagra to work is 30 minutes, although it could take an hour."
The two new generic versions of Viagra include one made by Teva Pharmaceuticals and another by Greenstone, a subsidiary of Pfizer, the company that makes Viagra. Currently, the wholesale cost for a Viagra pill is around $60, while the generic version sold by Greenstone is expected to go for around $30 to $35. How much the consumer pays will depend on such variables as insurance coverage and co-pays.
Whatever the cost, the fact that the generic version is likely to cost less than the brand name is a boon to men who may benefit from this treatment. In years past, ED was a disorder that no one wanted to talk about. But the stigma that can go hand and hand with an ED diagnosis is less common today, Samadi says. "There is not nearly the stigma there used to be," he explains. "Just 20 years ago, a man would deny having ED. It was a macho thing. Now there are commercials for treatments for ED airing during the Super Bowl. The idea is not that you are bad (at sex), but just that you could be better."
So, with medications to treat ED coming down in price, can a man who has this condition simply request a prescription from his physician? "We believe that if a man has erectile dysfunction, it is important not to just throw a pill at it," says Daniel Shoskes, MD, a urologist at Cleveland Clinic's Glickman Urological & Kidney Institute. "The cause should be investigated. If the reason turns out to be low testosterone, there is a treatment for that. If the cause is heart disease, diabetes or sleep apnea, treating these conditions is very important. A complete evaluation is valuable before prescribing Viagra or another oral medication."
Samadi says it's crucial for a man to see an internist or urologist before taking an oral medication like Viagra. "The penis is the window into the heart," he says. "The blood vessels in the penis are very small but the vessels in the heart are larger and so take longer to become clogged. If a man is having trouble getting an erection, this can be a warning sign that within three to five years he will have trouble with his heart."
The availability of generic forms of Viagra can benefit patients who want it, Samadi says. "Now we have a good solution for people who can't afford a $60 Viagra pill," he says. "Oral medications are the first line of treatment for ED. These treatments have made it possible for men to better able to enjoy sex at an older age. And with these medications, you are not just treating the man but treating a relationship and possibly saving the couple."
Medically reviewed in January 2018.