MCS (multiple chemical sensitivity) seems to be a problem for the middle-aged, not for children. People are more likely to encounter it when they change jobs or move to a new workplace than their kids are. Still, whether the worry is chemicals or such proven allergens as molds and mouse droppings, there is always a chance that they will activate their children's plain old allergies in the event they renovate their homes, or if a child's school is going to be renovated.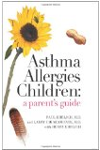 More About this Book
Asthma Allergies Children: A Parent's Guide
Asthma and allergies are at epidemic proportions. It doesn't have to be that way. Two experienced pediatric allergists tell everything a conscientious parent needs to know about these conditions,...
Continue Learning about Environmental Allergies