Testing may not be necessary if the allergist is experienced. A good allergy medical history should routinely include questions about visible water damage at home, school, work--wherever the patient spends considerable amounts of time. Water damage is an indicator that mold might be taking hold in the indoor environment. Basements and laundry rooms may also have a permanent musty, mildew smell. This is also an indicator of mold. Mold can also be a factor if the patient spends a lot of time in the woods because fallen leaves can also produce mold as they decompose. Unfortunately, immunotherapy for mold is not as effective as for many other allergens.
Before testing for mold allergy, your doctor may ask you about your symptoms, particularly focusing on the locations and times of year during which your symptoms occur the most. Your doctor may then recommend a skin prick test or a blood test. In a skin prick test, small amounts of mold are applied to your skin and then pricked with a tiny needle. If a bump forms where the mold was applied, then you are allergic to that mold. A blood test analyzes your blood for levels of antibodies that react to mold.
Continue Learning about Environmental Allergies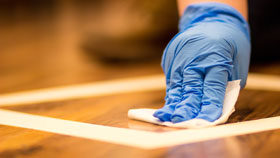 With environmental allergies, reducing your exposure to whatever is irritating you is key. Some people are allergic to household cleaners such as laundry detergent, hence the many varieties of mild detergent. With common irritants ...
like mold and dust, a cleaning routine can help. Reduce mold by removing houseplants, using a dehumidifier, avoiding carpet in the bathroom and cleaning indoor trash cans and shower curtains with a mix of water and chlorine bleach. Reduce dust by replacing carpets with wood or linoleum, removing drapes and feather pillows, regularly vacuuming soft furniture and floors, and washing bedding weekly.
More