Depending on the type of allergy, some children may suffer from allergies during childhood and outgrow them as they get older. However, this is usually not the case with mold allergy. Most of the time, if children develop mold allergies when they're young, they will have those mold allergies as an adult, too. Though it's not common to outgrow a mold allergy, it may be possible depending on the individual's immune system. Either way, it's important to monitor your child's symptoms on a daily basis.
If your child has a mold allergy, the best way to prevent symptoms is by keeping them away from mold. Prevent excessive mold growth in your home by keeping damp areas like kitchens, bathrooms and basements clean, dry and well-ventilated. Humidifiers can harbor mold; if you must use one, be sure to keep it clean and change the water frequently. Household humidity should be below 60 percent. Certain toys, especially bath toys and stuffed animals, can become moldy, so make sure you wash them often and throw them away if they become moldy. Also, make sure your child keeps bedroom windows closed to prevent mold from getting in, especially at night.
Continue Learning about Environmental Allergies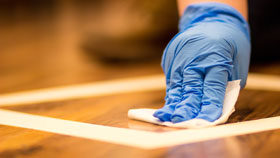 With environmental allergies, reducing your exposure to whatever is irritating you is key. Some people are allergic to household cleaners such as laundry detergent, hence the many varieties of mild detergent. With common irritants ...
like mold and dust, a cleaning routine can help. Reduce mold by removing houseplants, using a dehumidifier, avoiding carpet in the bathroom and cleaning indoor trash cans and shower curtains with a mix of water and chlorine bleach. Reduce dust by replacing carpets with wood or linoleum, removing drapes and feather pillows, regularly vacuuming soft furniture and floors, and washing bedding weekly.
More