No one knows how Reiki practice works. It is documented, however, that through an unknown mechanism of action, Reiki practice gently elicits a healing response from within the receiver, enabling the person to move toward a more balanced state of body, mind and spirit. In other words, Reiki practice optimizes self-healing.
The documented outcomes of this self-healing, balancing process include measurements such as improved heart rate, respiration, blood pressure, and heart rate variability. Even though improved blood pressure most often means lowered blood pressure, it is important to specify "improved" because Reiki practice does not lower normal blood pressure, and has been connected anecdotally with raising abnormally low blood pressure to a normal range.
Documented subjective outcomes include reduced anxiety and pain, and enhanced well-being and quality of life. These benefits are often felt within the first few minutes, and deepen with longer, repeated practice sessions.
Reiki is largely confused with energy medicine techniques such as Therapeutic Touch and medical qigong, but Reiki is actually a spiritual (not religious) practice -- like meditation or yoga -- that was started by Mikao Usui in Japan in the 1920s. Reiki practice is primarily for daily self-care.
Reiki is generally represented in conventional health care as an intervention, a treatment, or a modality rather than as a practice. It is unfortunate that the spiritual self-care roots of the practice are so often ignored, since those roots are the heart of the practice, and daily self-care provides irreplaceable support for professional or at-home caregivers.

The First degree, hands-on practice can be learned easily in 10-12 hours of in-person group class that includes practice, discussion, and the four Reiki initiations. You can then practice daily self-treatment and practice informally on family, friends, and pets.
When choosing a Reiki teacher, ask if he or she practices daily self-treatment. If the answer is anything other than an enthusiastic, "Yes, every day without fail," look for another teacher. Having a teacher who is committed to daily self-treatment will give you the foundation and confidence you need to continue your practice.
Reiki is a complementary treatment modality that can improve health and healing. Reiki is a Japanese word for the life force that flows through all living things.
Stresses of everyday living create blockages and imbalances in the body. Since Reiki reaches all levels of existence, it provides the environment for unification and balance to take place on all levels of the person (physical, mental, emotional, spiritual..). Reiki provides support for restoring physical, mental, emotional and spiritual balance in a way that optimizes health and healing.
A Reiki treatment or practice is a simple technique that allows your body to attune through connection with the palms of the practitioner's hands. Reiki is totally safe and can be felt as an increased sense of oneness and harmony. Reiki practitioners assist people in moving to a more integrated level of health.
Reiki supports consciousness and conscious health. It is a complementary healing modality and a cooperative process between client, practitioner and the universe.

There are levels or degrees of Reiki, which involve an attunement from a Reiki Master (teacher). You do not need any special background or talent to learn and use Reiki.

First Degree Reiki is for self-healing and providing Reiki to another person who is present with the practitioner. In this class you learn the specific hand positions and are attuned to Reiki. Then, you can use Reiki for yourself on a daily basis or to help others.

Second Degree Reiki is used for sharing Reiki with others at a distance. In this class you will learn specific techniques for scanning and beaming Reiki to another, Reiki symbols to enhance the energy and receive another attunement.

You can also take the Master Level training if you want to dedicate yourself to teaching Reiki to others.
With Reiki, energy enters the practitioner through the top of the head and exits through the hands, being directed into the body or energy field of the recipient. Reiki is a very subtle form of healing and may be done through clothing and without any physical contact between the practitioner and client. The practitioner places her/his hands on or near the client's body in a series of hand positions. Each position, whether on the hands, feet, shoulders, or other, is held for three to ten minutes depending on how much Reiki the client needs. The entire treatment usually lasts between 40 to 90 minutes.

If used effectively, Reiki can boost energy, healing, and mental clarity, and decrease pain. It is used to heal headaches, stomachaches, bee stings, colds, flu, tension, and anxiety as well as help reduce the side effects of medical treatments for serious illness, including chemotherapy. Stress reduction with some improvement in ones physical and psychological condition are what most experience.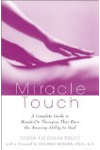 Continue Learning about Energy Work & Reiki