When you practice energetic hygiene diligently, your energy body becomes more refined; the particles of prana that make up your energy aura become cleaner and smaller. They also vibrate at a higher frequency. A refined energy body is able to absorb more prana of all frequencies. This quality of refinement is compounded - as you practice good energetic hygiene, you can absorb more prana, which in turn makes your energy body even more refined, which then enables you to take in even more prana, and so on. A refined energy body is also stronger energetically, which enables you to resist ailments more effectively and rebound more quickly if you do get sick.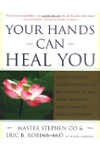 Continue Learning about Energy Boosters

Do your energy levels dip during the day? From food and drinks to exercises and vitamins, we've got the causes and treatments that can help you boost and maintain your energy all day.