Poor sleep catches up to most moms. It also sets moms up for entering a vicious cycle whereby they plunge into deeper sleep deprivation (and reel from its numerous negative effects), and avoid healthy behaviors that can counter the bad mood, such as exercise and eating right. So even if you say you're okay on four or five hours, you should take a good look at your sleep habits if you are unhappy with your energy, not to mention your looks and your weight. See what happens when you force yourself to get more sleep. You just might force yourself to lose unwanted weight and achieve a more beautiful, energetic you.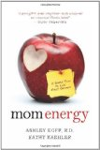 More About this Book
Mom Energy: A Simple Plan to Live Fully Charged
       From celebrated dietitian Ashley Koff and fitness trainer to the stars Kathy Kaehler comes Mom Energy, an exciting new way for moms to tap into their own natural and renewable sources of...
Continue Learning about Energy Boosters

Do your energy levels dip during the day? From food and drinks to exercises and vitamins, we've got the causes and treatments that can help you boost and maintain your energy all day.