There are lots of habits that people get into without realizing it. Take a few days -- or even a week -- at a time to record everything you do as a mom. Keep track of what time you go to bed and when you wake up. Also include how many times you wake up in the night. Do you get up? Why do you get up? How long do you stay awake? Do you have lots of electronic lights on in the room? Do noises keep you awake? What clothes do you wear to bed? Do you watch TV before falling asleep? The answers to these questions may ultimately relate to your energy shortages.

Keep a chart for your exercise workouts and the duration of each one. See how consistent you are with keeping a routine, as this plays a huge role in your energy. This is a good exercise for all moms. We all have lows in energy during the day, and it's important to know when that low arrives and what you habitually do about it. Tracking your life to know where your time goes -- down to every last minute -- will help you to implement other strategies for organizing your life and planning accordingly.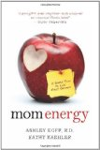 More About this Book
Mom Energy: A Simple Plan to Live Fully Charged
       From celebrated dietitian Ashley Koff and fitness trainer to the stars Kathy Kaehler comes Mom Energy, an exciting new way for moms to tap into their own natural and renewable sources of...
Continue Learning about Energy Boosters