The three main types of female sex hormones are:
Estrogen: A female sex hormone produced by the ovaries, the adrenal gland, and (in small quantities) by body fat. Estrogen helps to retain calcium in bones, regulates the balance of high density lipoprotein (HDL) and low density lipoprotein (LDL) cholesterol in the bloodstream, and aids the maintenance of blood-sugar levels, memory functions, and emotional balance, just to mention a few.
Progesterone: A female sex hormone produced in largest amounts during and after ovulation that prepares the uterus for the implantation of a fertilized egg. It also helps reduce body fat, aids in relaxation and reduction of anxiety, and promotes hair growth.
Testosterone: The principal male sex hormone, testosterone is also produced in smaller amounts in women's bodies mostly by the ovaries and adrenal glands. It plays an important role in the health and well-being. Testosterone affects libido, mood, energy, and body fat and helps to protect against osteoporosis.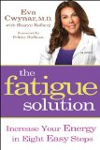 Continue Learning about Endocrine System