Our own melatonin loses some of its potency as we age—our receptors for that neurotransmitter don't create the same power from the dose of melatonin they receive. As you get older, you also lose some of the oomph you get from melatonin, which may explain why so many of us suffer aging-related sleep and health problems. In fact, melatonin production peaks around age 5 and starts a downhill slide from there.

Unfortunately, we lose up to 80 percent of those original levels by the time we reach 60. And that's likely one of the reasons we don't sleep as well when we get older.

When you're 20 and can easily sleep until noon, your levels of melatonin average about 80 picograms per milliliter; at 60, those levels drop down to 10. At age 20 you might have had a level of 10 in the late afternoon. You slept through that late-afternoon class. We know that 10 is less effective at age 60 than it was in the afternoon at age 20.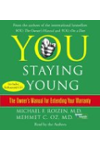 Continue Learning about Endocrine System
Your endocrine system works with your nervous system to control important bodily functions. The endocrine systems responsibilities include regulating growth, sexual development and function, metabolism and mood. The endocrine syst...
em also helps give your body the energy it needs to function properly. Endocrine glands secrete hormones into the bloodstream. Hormones are considered chemical messengers, coordinating your body by transferring information from one set of cells to another. Your endocrine system health can be affected by hormone imbalances resulting from impaired glands. A hormone imbalance can cause problems with bodily growth, sexual development, metabolism and other bodily functions. Endocrine system diseases or conditions include diabetes, growth disorders and osteoporosis.
More