According to the most recent information available, the risks may outweigh the benefits of taking hormone replacement therapy (HRT). Two major studies of postmenopausal women on hormone replacement -- one from the National Cancer Institute (NCI) and the other from the Women's Health Initiative -- found that women on HRT were at increased risk for ovarian cancer. In fact, postmenopausal women who used HRT for 10 or more years were at a significantly higher risk not just for ovarian cancer, but also for coronary heart disease, stroke, and pulmonary embolism.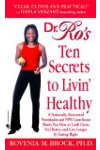 More About this Book
Dr. Ro's Ten Secrets to Livin' Healthy
In this one-of-a-kind book, Dr. Rovenia M. Brock—known as Dr. Ro™ to fans of Black Entertainment Television's Heart & Soul—reveals practical, satisfying ways for African American women to eat...
Continue Learning about Endocrine System
Your endocrine system works with your nervous system to control important bodily functions. The endocrine systems responsibilities include regulating growth, sexual development and function, metabolism and mood. The endocrine syst...
em also helps give your body the energy it needs to function properly. Endocrine glands secrete hormones into the bloodstream. Hormones are considered chemical messengers, coordinating your body by transferring information from one set of cells to another. Your endocrine system health can be affected by hormone imbalances resulting from impaired glands. A hormone imbalance can cause problems with bodily growth, sexual development, metabolism and other bodily functions. Endocrine system diseases or conditions include diabetes, growth disorders and osteoporosis.
More