Some hormones may promote weight gain. Excess corticosteroids, especially in people who take large doses of prednisone or similar medications, cause obesity of the trunk and rounding of the face but a loss of muscle mass in the extremities. Too much of the naturally occurring hormone cortisol in patients with Cushing's disease or Cushing's syndrome -- both rare conditions -- will do the same thing.

Oral contraceptive medications or hormone replacement therapy often causes weight gain. Much of this is water weight, but there may be increased fat and muscle as well. Usually the weight gain is just a few pounds, but some women gain much more.

Testosterone replacement therapy often causes weight gain, but it is usually primarily an increase in muscle, so men on testosterone replacement usually do not feel as though the medication is making them fat.

Over- or under-activity of the thyroid gland, or too much or too little thyroid hormone replacement may be associated with changes in weight. Most people associate hypothyroidism with weight gain, but the relationship is not always simple and some people with an underactive thyroid will lose weight, while occasionally someone with an overactive thyroid will gain.

In most instances, the impact of a hormone on weight is less than that of the person's lifestyle. Calorie intake and calorie expenditure still govern whether one becomes overweight or not, even in a person with a hormone problem or on hormone treatment.
In our battle to reduce our waistlines, we have several fearsome adversaries. And one of the greatest foes we will meet on the battlefield is our hormones. Sure, we all know that raging hormones can make a teenaged boy become sex obsessed or give a menopausal woman hot flashes so bad she feels like she's in Death Valley in August. But you may not know that your hormones have a lot to do with whether or not you're going to look good in a bathing suit.
Before you hit yourself over the head with a stick of salami for lacking the willpower to resist aforementioned salami, or if you can't figure out why you eat less than all your friends but still gain weight, consider that your hormones may be influencing your body more than you think. Glands, which make up your endocrine system and produce your hormones, influence metabolic rates in ways that can make you more nervous than a long-tailed cat in a room full of rocking chairs. And they are responsible for the genetic conditions that could be influencing your weight.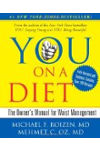 Studies show that hormonal shifts contribute to depression which gives rise to several health issues. Now, a new study claims that depression could increase hormone levels in teenage girls, leading to weight gain and obesity. Studies have shown that the body generates higher levels of the hormone cortisol as a reaction to stress. Scientists have known that depression and cortisol are linked to obesity, but they had not determined the exact biological mechanism. The latest findings indicate that the increased levels of cortisol in young girls can affect their metabolism, and lead to weight gain.
Continue Learning about Endocrine System