Don't take hormones or so-called "hormone releasers" just because of advertising come-ons. Previously we thought the most powerful antiaging agent for postmenopausal women was estrogen-based hormone replacement therapy (HRT). Now we are told that this isn't the case. However, neither of those positions may be correct. It may be we've done the studies wrong. Nevertheless, there are a lot of hormone come-ons -- everything from dehydroepiandrosterone (DHEA) for men to a pill for human growth hormone (HGH). We don't know if any of these have a RealAge (physiologic age) benefit yet. Testosterone does have a benefit for specific populations. Remember, there is a substantial RealAge benefit for avoiding the wrong HRT.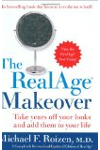 Continue Learning about Endocrine System
Your endocrine system works with your nervous system to control important bodily functions. The endocrine systems responsibilities include regulating growth, sexual development and function, metabolism and mood. The endocrine syst...
em also helps give your body the energy it needs to function properly. Endocrine glands secrete hormones into the bloodstream. Hormones are considered chemical messengers, coordinating your body by transferring information from one set of cells to another. Your endocrine system health can be affected by hormone imbalances resulting from impaired glands. A hormone imbalance can cause problems with bodily growth, sexual development, metabolism and other bodily functions. Endocrine system diseases or conditions include diabetes, growth disorders and osteoporosis.
More