Some psychology researchers have described two types of pain. The first type is considered existential pain, or what one researcher calls "clean pain," which is the normal pain that comes with living an ordinary life. This pain comes from such common, but nevertheless painful, human experiences as losing a loved one; being diagnosed with a serious illness; experiencing abuse, humiliation, or degradation; or perceiving that we have failed at something we hoped would succeed. All humans experience this type of pain to some extent.

The second type of pain is considered neurotic, unnecessary, or "dirty pain." Neurotic pain is considered unnecessary or "dirty pain." This pain is pathological, unhealthy, and damaging, and stems from what we tell ourselves about the existential pain we experience. It can also be caused by unrealistic appraisals of ourselves, harsh judgments from others or the world and a consistently negative view of the world that is unaffected by any positive feedback or events. For people with depression, it is often this unnecessary pain that causes the most suffering.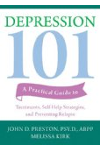 Continue Learning about Emotional Health
How well you handle stress, anger, relationships, work, family life-it all factors into your emotional health. Finding balance in life-as well as peace of mind-helps us cope with life's ups and downs. Take time to explore new ways ...
to find stress relief, and to release anxiety, and unhappiness. Counseling can help-as can a gratitude journal.
More