The Emotional Freedom Technique, or EFT, is an acupressure technique that can be very effective in releasing emotionally charged issues including fears, phobias, and even physical maladies. The six steps to performing the Emotional Freedom Technique are as follows:
1. Focus on the issue at hand and feel the feeling as intensely as you can.
2. Rate the intensity of the feeling from 1 to 10 (10 being the most intense).
3. Correct any "psychological reversals." These are self-defeating attitudes (often unconscious) that can get in the way of healing. Do this by saying the following affirmation three times with conviction while rubbing the "sore spot" in a clockwise direction. "Even though I have this __________ (note the feeling, etc.), I deeply and completely accept myself." Fill the blank in with the issue you are treating for. Examples are "Even though I have this fear of public speaking, I deeply and completely accept myself," or "Even though I have this feeling of rejection because of what he/she said to me, I deeply and completely accept myself."
4. Tap about seven times solidly (with the tips of your index and middle fingers on one hand) on each of the eight EFT points. Start with point #1 and proceed through point #8. As you do this, repeat a reminder phrase, "this __________ (e.g., anxiety)," while feeling it. As you tap point #8 (the crown of your head), some people like to take a deep breath, imagining that they are breathing out the situation.
5. Now take a minute to reevaluate the intensity of the feeling. Does it feel the same? Give it a new rating. Be aware if the feeling has shifted to another emotion. If it has shifted, it is important to treat again for whatever has come up.
6. Keep treating until you reach a zero rating. It may take a few rounds, but after you are done, you should feel a state of inner calm.
Consider tapping while saying the affirmations right before going to bed at night. This gives your subconscious hours to work on the issues for you. In addition, you only need to tap on one side of the body, and it does not matter which side of the body you choose. It is okay to switch from one side to the other in the middle of the session. For instance, it works even if you tap on the side of your right eye and end up tapping under the arm of your left side.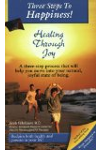 More About this Book
Three Steps to Happiness! Healing Through Joy
Happiness is our natural state of being. It is who we are. This happiness is obvious when you look at little children before they take on society's beliefs. Their natural state is to feel all of...
Continue Learning about Emotional Health
How well you handle stress, anger, relationships, work, family life-it all factors into your emotional health. Finding balance in life-as well as peace of mind-helps us cope with life's ups and downs. Take time to explore new ways ...
to find stress relief, and to release anxiety, and unhappiness. Counseling can help-as can a gratitude journal.
More