Learning to accept and love ourselves in our bodies is an important ongoing struggle and a political statement. It can take time to embrace our own beauty, or even to recognize it. The self-loathing that many of us live with each day eats away at our well-being.
We need to do more than love ourselves. To make change, to produce a world in which all of us are accepted, we must see ourselves as part of a community of women, and understand how the personal decisions we make - such as whether to diet or dye our hair or get a face-lift - can affect other women. Our mission, should we accept it, is to create a future in which every woman can experience the joy of being valued completely for who she is - and what she looks like.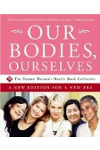 Continue Learning about Emotional Health
How well you handle stress, anger, relationships, work, family life-it all factors into your emotional health. Finding balance in life-as well as peace of mind-helps us cope with life's ups and downs. Take time to explore new ways ...
to find stress relief, and to release anxiety, and unhappiness. Counseling can help-as can a gratitude journal.
More