The ability that physical feelings have to transmit emotional feelings is incredible. Judith Goldberg, a licensed marriage and family counselor from Manhattan, shared: "I was talking with a mother and her fifteen-year-old daughter recently. I asked the mother if her daughter loved her, and she replied, 'Oh, certainly.' Then, I asked the teenager if she felt that her mother loved her, to which she replied, 'No, she doesn't.' The mother was shocked with her statement and said, 'I tell you I love you everyday.' The teen responded, 'But you never hug me . . . '"

Virginia Satir, a seminal theorist, researcher and clinician with families, said that unless we get about a dozen hugs a day we risk having our spirit die. Satir claims we need four hugs a day for survival, eight for maintenance, and twelve for growth.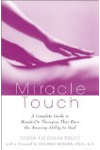 Being present with people you care about and having real face-to-face interaction is very healthy for your body. Hugging has been shown to boost psychological well-being. Social community will increase immune function: research reveals that the more social circles a person has, the stronger their immune system can be. For instance, social communities like book clubs, church activity and being involved with a play can increase natural killer cell activity. Natural killer cells help fight cancer in your body.

And it seems in the age of cyber social circles, the less face-to-face contact people have, the more narrow their arteries become. The fewer hugs and less direct contact people have, the less oxytocin they release. Oxytocin is a hormone that can prevent negative events of the heart -- so keep those hugs coming.
Continue Learning about Emotional Health