The key to change bad dietary habits is learning social skills so you do not look for bad dietary habits to solve your social problems. Behaviors that lead to poor health lower your emotional well-being and further this cycle. Your beliefs and your diet work hand in hand. Self-confidence is important to your health and dietary choices. If you believe that what you say is worthwhile and attractive to others, this attitude will be transferred to everyone around you, regardless of how you might actually look. When you have a legitimate reason to believe in yourself, you will care for yourself better and be more inclined to eat right.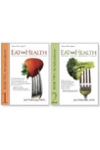 Continue Learning about Emotional Health
How well you handle stress, anger, relationships, work, family life-it all factors into your emotional health. Finding balance in life-as well as peace of mind-helps us cope with life's ups and downs. Take time to explore new ways ...
to find stress relief, and to release anxiety, and unhappiness. Counseling can help-as can a gratitude journal.
More