Many of us learned at an early age that we are not supposed to be angry or aggressive or want or need too much. When we repeatedly suppress these "negative" feelings, we may eventually be less aware of what we feel. Yet many of us have much to be angry about, from the pervasiveness of racism, sexism, and other injustices that affect our lives to the individual losses we have suffered.Learning to know what you feel and why you may feel as you do, and learning how to release or express your feelings in appropriate and constructive ways, can free you to feel better about your life. Keeping a journal, making art, seeing a therapist, crying with friends, or exercising vigorously can all be helpful ways of releasing and addressing emotions.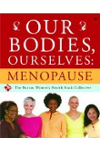 More About this Book
Our Bodies, Ourselves: Menopause
FROM THE EDITORS OF THE CLASSIC "BIBLE OF WOMEN'S HEALTH," A TRUSTWORTHY, UP-TO-DATE GUIDE TO HELP EVERY WOMAN NAVIGATE THE MENOPAUSE TRANSITION For decades, millions of women have relied on Our...
Continue Learning about Emotional Health
How well you handle stress, anger, relationships, work, family life-it all factors into your emotional health. Finding balance in life-as well as peace of mind-helps us cope with life's ups and downs. Take time to explore new ways ...
to find stress relief, and to release anxiety, and unhappiness. Counseling can help-as can a gratitude journal.
More