Unconditionally loving and accepting yourself without blame or fault can break what has often been (especially as is seen with physical or sexual childhood abuse) a many generational chain of suffering.
When we find ourselves hurt by or hurting others in relationships, what is coming up is usually a part of us that has been hurt in our childhood. By feeling our feelings, and accepting and loving even (and perhaps especially) those parts of ourselves that are in pain unconditionally, we can grow to eliminate the unconscious need to hurt both ourselves and others.
From this brave action of loving ourselves comes not just self-healing. It also can prevent our transmitting this pattern of abuse (through our or our spouse's actions) to our children and grandchildren, and can redeem the suffering of generations who came before us. It also allows us to unconditionally love the other special people in our life.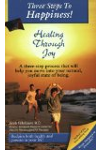 More About this Book
Three Steps to Happiness! Healing Through Joy
Happiness is our natural state of being. It is who we are. This happiness is obvious when you look at little children before they take on society's beliefs. Their natural state is to feel all of...
Continue Learning about Emotional Health